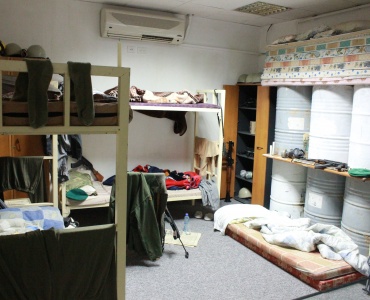 The Israeli occupation forces besieged Yasser Arafat, the elected president of the Palestinian people, for nearly 34 months at his headquarters within the presidential compound, Al-Muqata'a, in Ramallah.
In preserving the conditions in which the late President Arafat lived and worked, his headquarters have become a significant landmark and symbol of struggle and steadfastness. The noble essence of Arafat's presence permeates the space.
The headquarters includes the late President's office, conference room, bedroom, living room, secretary's office, bodyguards' quarters, and other facilities. A bridge was constructed to connect the old Muqata'a with the new building of the Museum. Visitors arrive at the bridge after the tour of the four ramps.
The old headquarters was closed following the passing of Yasser Arafat and was reopened in conjunction with the inauguration of the Museum on the 12th anniversary of his death.
This section has been preserved as it was before and during the siege to enable visitors to 'live' the experience.