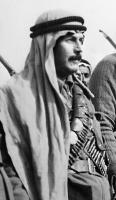 The Martyrdom of Abd Alqader Al-Husseini
On the 8th of April 1948, Abd Alqader Al-Husseini, the leader of the "Holy Jihad" is martyred while carrying out a successful counterattack at the village of Al-Kastal near Jerusalem. Upon his death, the Haganah occupy the village.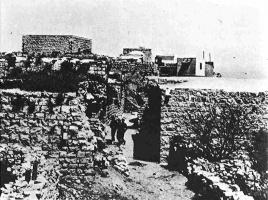 Deir Yassin Massacre
On the 9th of April 1948, the Irgun and Stern, supported by Palmach, storm the village of Deir Yassin, west of Jerusalem, attack its inhabitants and massacre 107 Palestinians, including women, children and the elderly, leading to a Palestinian exodus.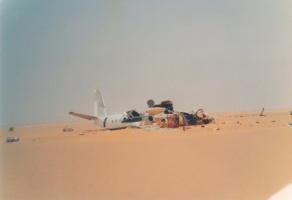 Yasser Arafat Plane Crash
On the 7th of April 1992, while en route from Khartoum to Tunis, Yasser Arafat's plane crashes in the Libyan Desert. The aircraft disappears from Libyan radar, and communication is lost one hour and 40 minutes after take off. A state of emergency is declared by Libya, and news agencies broadcast the plane's disappearance in the Libyan Desert. In the pre-dawn hours, a search team of Palestinian fighters at Al-Sarra Desert Training Camp in southern Libya finds the wreckage, and the media news spreads: "Abu Ammar is safe.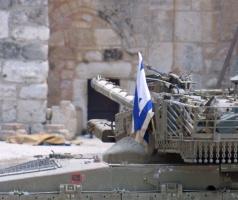 Nativity church siege
Israeli occupation forces besiege the Church of the Nativity in Bethlehem from the 2nd of April through the 10th of May 2002, on the pretext of wanted activists inside the church.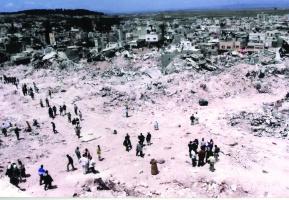 Assault on Jenin Refugee Camp
On the 2nd of April 2002, Israeli occupation forces launch a full-scale military assault on Jenin Refugee Camp that continues until the 11th of April 2002. Fifty-two Palestinian fighters and civilians are killed, and large sections of the camp are demolished. Human rights organizations and others accuse Israel of committing war crimes.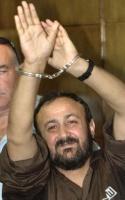 Marwan Al-Barghouti Detaining
Israeli occupation forces detain Marwan Al-Barghouti, a prominent leader of Fatah and member of the Legislative Council on the 15th of April in Ramallah, charging him with directing attacks and planning attempted murders. He was convicted and sentenced to five life terms in prison.
Shimon Peres letter to Johan Holst